Google Analytics offers a wealth of useful data that SEO specialists can make use of to evaluate the success of their SEO efforts, spot potential issues like slow sites or discover chances for conversion from landing pages that perform well and convert.
Any novice or expert SEO should have access to a few of GA4's reports.
For this reason, we've provided you with a list of SEO reports in Google Analytics 4 that support various aspects of your SEO approach.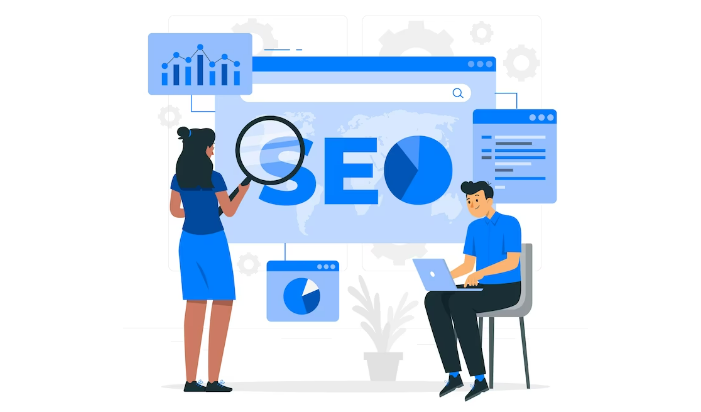 Below are the reports which are relevant for the SEO strategies:
Referral Traffic

Conversions Report

Traffic Acquisition Report

Google Search Console

Landing Page Report

Mobile Report
The Importance of Google Analytics for SEO
Google Analytics offers comprehensive information about your SEO efforts. Because SEO is a marketing tactic that requires time to show results, you can use its metrics to track the evolution of the pages on your site.
For both technical and on-page SEO, Google Analytics is a great tool for spotting possibilities and issues. Google Analytics reveals what is or is not effective in relation to your objectives, letting you know where to put your time and money.
Google Analytics can be an invaluable tool for understanding the impact of your SEO efforts. Here are a few more examples of how it can help:
Understanding user behaviour: By tracking user behaviour on your site, such as which pages they visit, how long they stay, and what actions they take, you can gain insights into how to optimise your site for better engagement and conversions.

Monitoring keyword performance: Google Analytics can show you which keywords are driving traffic to your site, as well as which ones are generating the most conversions.
Let's look at the GA4 reports for SEO:
1.
Referral Traffic
Referral traffic is a crucial element of SEO. You can not only increase your traffic flow with this kind of traffic, but you can also build backlinks to improve your domain authority and search engine positioning. Traffic from referrals reveals websites that connect to yours. Compared to clicking on one of your URLs in a search engine, this is different.
If you are conscious of the websites that link to your site, you can work together with them directly.
Now to see referral traffic in Google Analytics 4 go to Reports -> Traffic Acquisition
Referral might be mentioned there in the table, or you could use the search bar.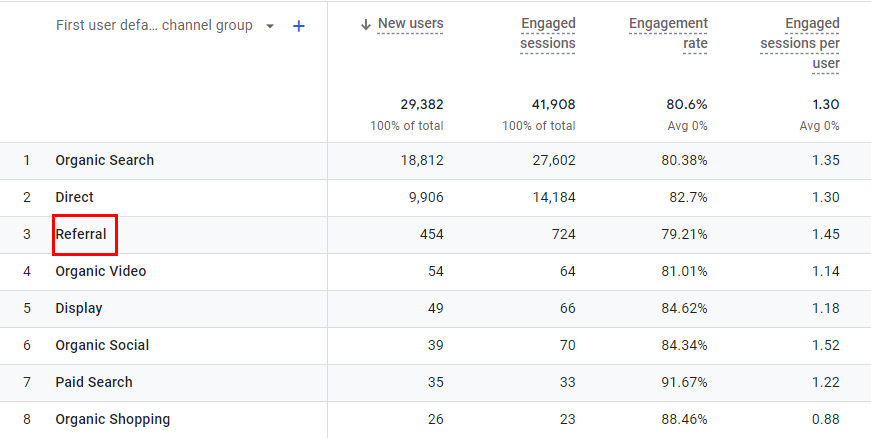 The 'First user source' will then be added as a secondary dimension to help us identify the origins of your referral traffic.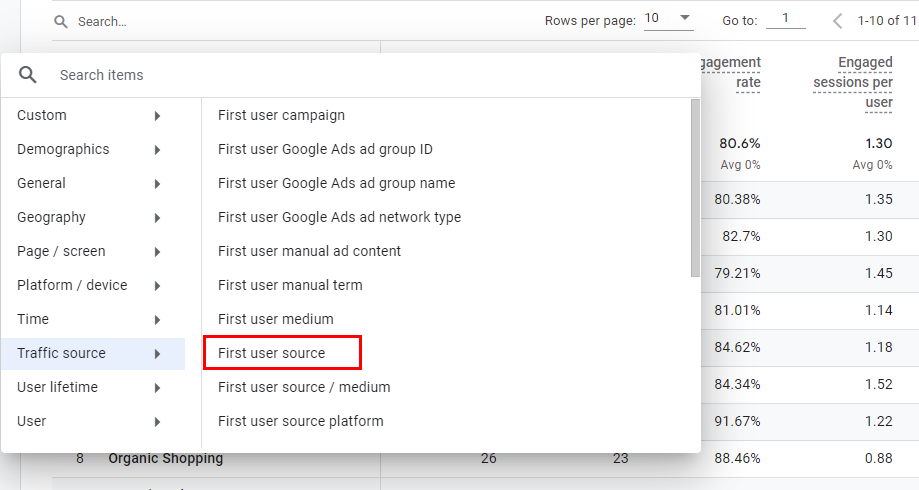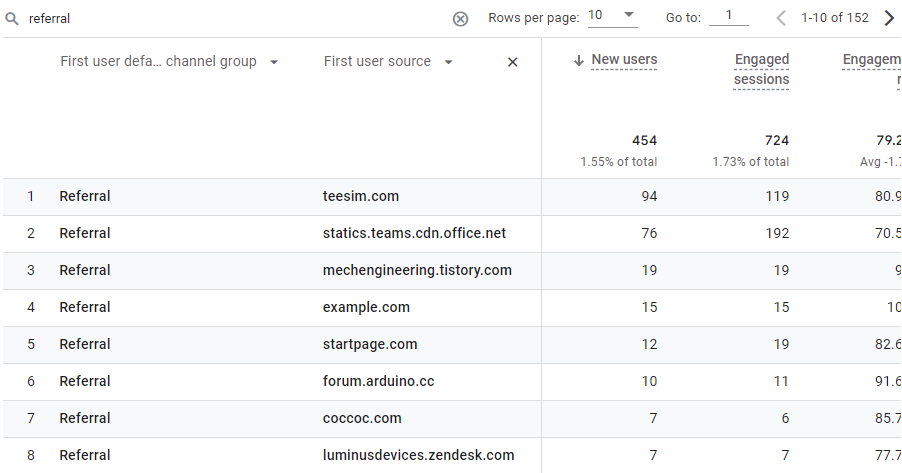 2. Conversion Report
The ability to monitor target objectives with GA4 conversions enabled makes it simpler to demonstrate SEO results and justify increased spending.
Additionally, SEO results are known to take lengthier than those from other forms of digital marketing. Therefore, the earlier you can implement them, the better, as you'll be able to demonstrate their effectiveness over time beyond a shadow of a doubt.
The amount of pageviews obtained, sales conversions, lead form submissions, or any other action you anticipate users taking can all be considered SEO goals.
The remainder of GA4 is a piece of cake once you're tracking the interactions you want to track on your website (referred to as Events in GA4). To designate your activities as conversions, you merely need to turn on a small toggle.
You can find it in Admin -> Events

3. Traffic Acquisition Report
GA4 examines acquisition through two distinct attribution models, leading to the two findings listed below under acquisition:
User Acquisition

Traffic Acquisition
SEO aims to increase your website pages' exposure in natural search results. The Acquisition report from GA4 offers in-depth analysis of the traffic sources for your website. This also includes natural search engine visits from sites like Google, Yahoo, or Bing.
As a result, organic traffic in GA4 can be examined and contrasted with traffic from other sites such as Google, Facebook, Direct, etc. Here , the source/medium of the users can be understood based on the reporting.
The Traffic purchase report is where marketers tend to start their investigations. This summary resembles the one from Universal Analytics as well. (GA3). You can move to Reports -> Acquisition -> Traffic Acquisition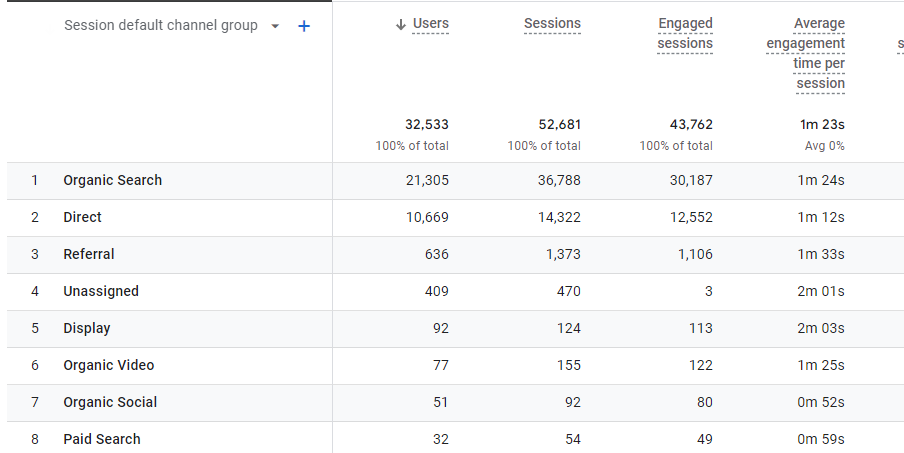 You can also select the source/medium from the dropdown list.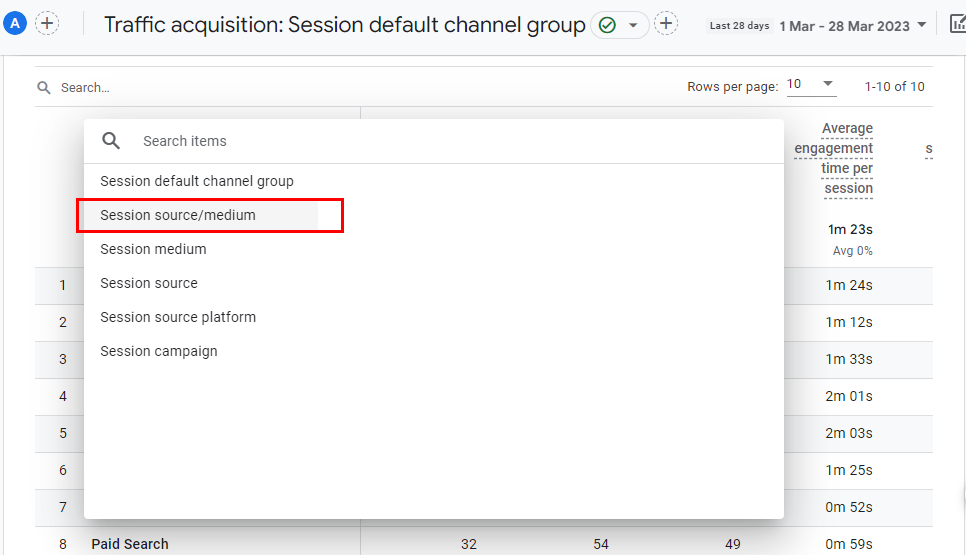 Now if required to check any specific values, then we can filter the data by using the search bar.

4. Google Search Console
Before beginning your analysis, the first stage is to link Google SearchConsole to GA4.
Once both have been incorporated, it will be possible to use GA4's analytics features to further explore organic search results, such as queries that result in clicks to your website or your site's ranking in search results.
Two additional reports will be published after that:
Organic search traffic report




The landing web pages associated with Search Console and GA's metrics are displayed in the Organic Search Traffic report. This is the reason why some believe renaming this report to "Search Console Landing pages" makes more sense.

Queries report




You can discover search queries associated with Search Console metrics in the Queries report. The restriction in this case is that only Search Console dimensions—not Google Analytics dimensions—can be used to dig down the data.
To get this report in GA4, go to Admin-> Property, The Products Links area can be found by a little bit scrolling down under Property. Link options for Google Search Console.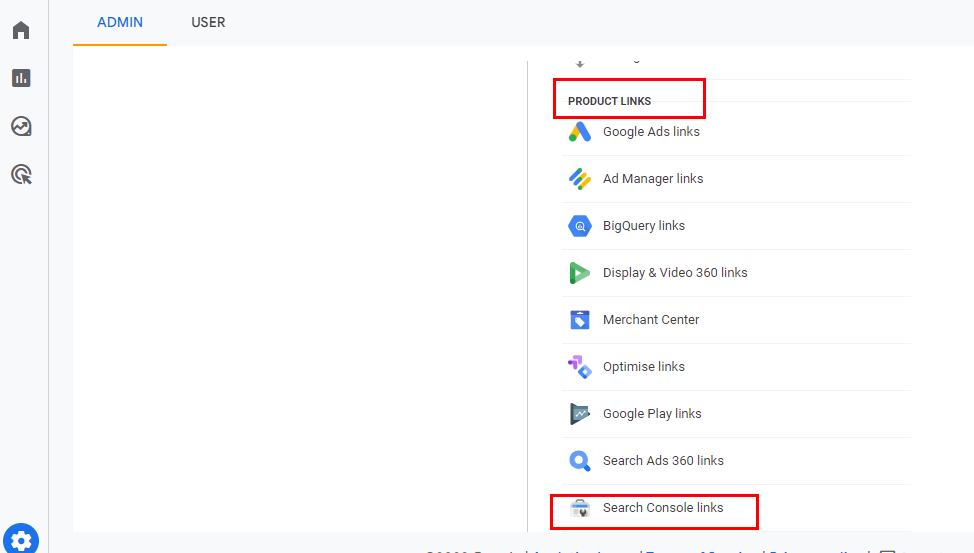 5. Landing Pages Report
This report's displays the sites visitors arrive at first when visiting your website and objective—which also pertains to SEO—is to provide an overview of users' initial reactions to your website. This enables you to comprehend the topics (type of material) they are most interested in, which aids in identifying areas where we can increase traffic.
Here are some methods for spotting and taking advantage of these chances.
Examine the top 10 pages (many articles concentrate on the top 10, but you don't have to end there), then take a look at the pages performing well based on the metrics that matter to you. (revenue in GA4, engagement rate, views, sessions, etc.).

Keep track of the trends on the sites that are performing well. The goal is to identify what is effective, increase production of it, and stop doing what isn't. In terms of trends, these are typically collections of content that pique the interest of your community.

Low traffic or engagement pages can still offer conversion possibilities. Comparing them to landing pages that are performing better and looking for ways to make them better is a smart practice.
To find this report in GA4, go to Engagement -> Landing Page

6. Mobile Report
Nearly 60% of all web traffic today comes from mobile devices, and in markets where mobile devices are the norm, like Asia and Africa, mobile connections make for an even higher percentage of web page views.
Given the large number of users who conduct searches on mobile devices, Google had to issue a mobile-friendly version of search results.
Compare your mobile statistics with engagement metrics once you're in GA4. For instance, if your site has a high mobile category return rate, it may not be mobile-friendly.
To see this report in GA4, go to Reports -> Tech -> Tech Details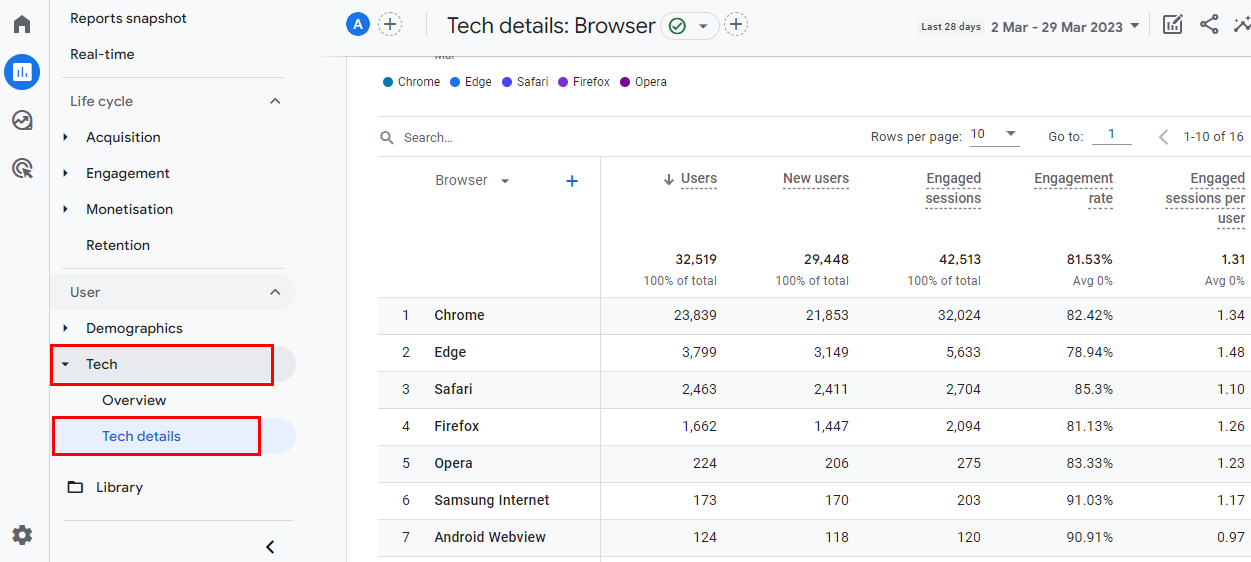 The dimension can be changed from selecting the values from dropdown related to mobile devices like: Device Category, Device Model and can select any based on the requirement.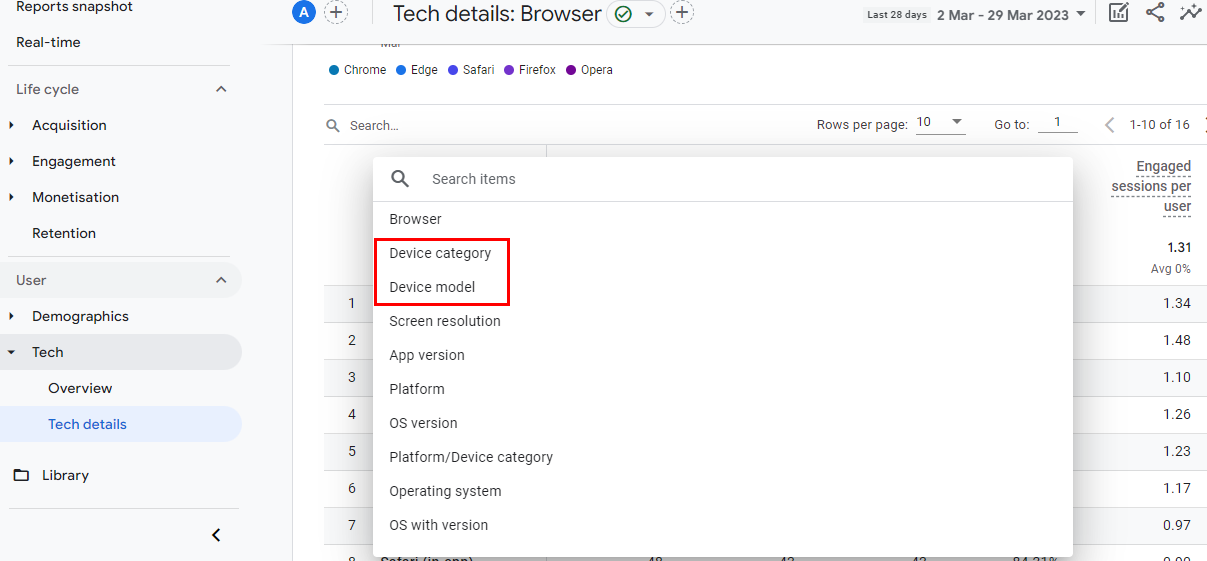 Conclusion
Google Analytics is a powerful tool that can provide valuable insights for SEO efforts. By tracking metrics such as traffic sources, user behaviour, and conversions, you can gain a better understanding of how your site is performing and where to focus your optimization efforts.
GA4 reports specifically provide more advanced insights to improve SEO strategies. With this information, you can make data-driven decisions to improve your search engine rankings, drive more traffic to your site, and ultimately increase conversions and revenue.